Tyres, tyres and tyres. Yes, we all know they're round, black and made of rubber, but they were all anyone could talk about at the opening round of the New Zealand Superbike series at Mike Pero Motorsport Park in Christchurch. With three races planned for the weekend with varying lengths, it was always going to come down to who could set up a fast bike for each distance and manage tyre degradation throughout.
Qualifying on the front row in P1 Saturday morning was the start to the National Superbike Series that the team was looking for. It was difficult conditions for everyone with gusty high winds antagonizing the rider's control.
Al discusses his pole qualifying session "I found qualifying challenging due to the wind, I banked a good lap early on that came easily but felt I could do better. I went out for one last flying lap, I struggled to hit my markers fighting wind gusts. I knew I improved but you're never sure if it's enough. I was excited to see I was still at the top at the end of the session."
The season opening sprint race of 10 laps on Saturday afternoon was a good demonstration of all the teams hard work building up to the Series.  Al's start wasn't perfect yet our lap times stayed solid and more importantly, we demonstrated the ability to be aggressive and push to the front.  Mitch from Rees Racing and Al had a tremendous battle towards the end with Al coming home under the checkered flag in front.
"A massive effort has gone into the 2017 BMW and Bridgestone combination to make this happen, all our efforts were finally rewarded" was Al comments after the race.
Sunday morning's 15-lap race was again encouraging.  We had a better start off the line, solid lap times and another spectacular tussle with Mitch going back and forth at the front. With every race come learning curves, new hurdles, or even just life lessons.  Tucking the front and crashing out when leading the race into the final turn on the final lap is one of those lessons.
The team had a frantic couple of hours scrambling to get the S1000RR rebuilt for the final 18-lap GP race. The compound chosen turned out not to be the ultimate choice for this race, reducing our ability to compete at the front, resulting in a controlled P4.
M1 had a very positive start to the Nationals. We currently sit in fourth position overall, not only did we take a handful of points away from the weekend we gained valuable knowledge. We're excited about this weekend's racing in Timaru. We know we can run at the front and if we work hard and tick all the boxes required we'll be hard to beat.
We would like to acknowledge each one of our sponsors for their support and confidence in our work, with their contributions and commitment this is all possible. Please support our sponsors.
-M1 Motorsports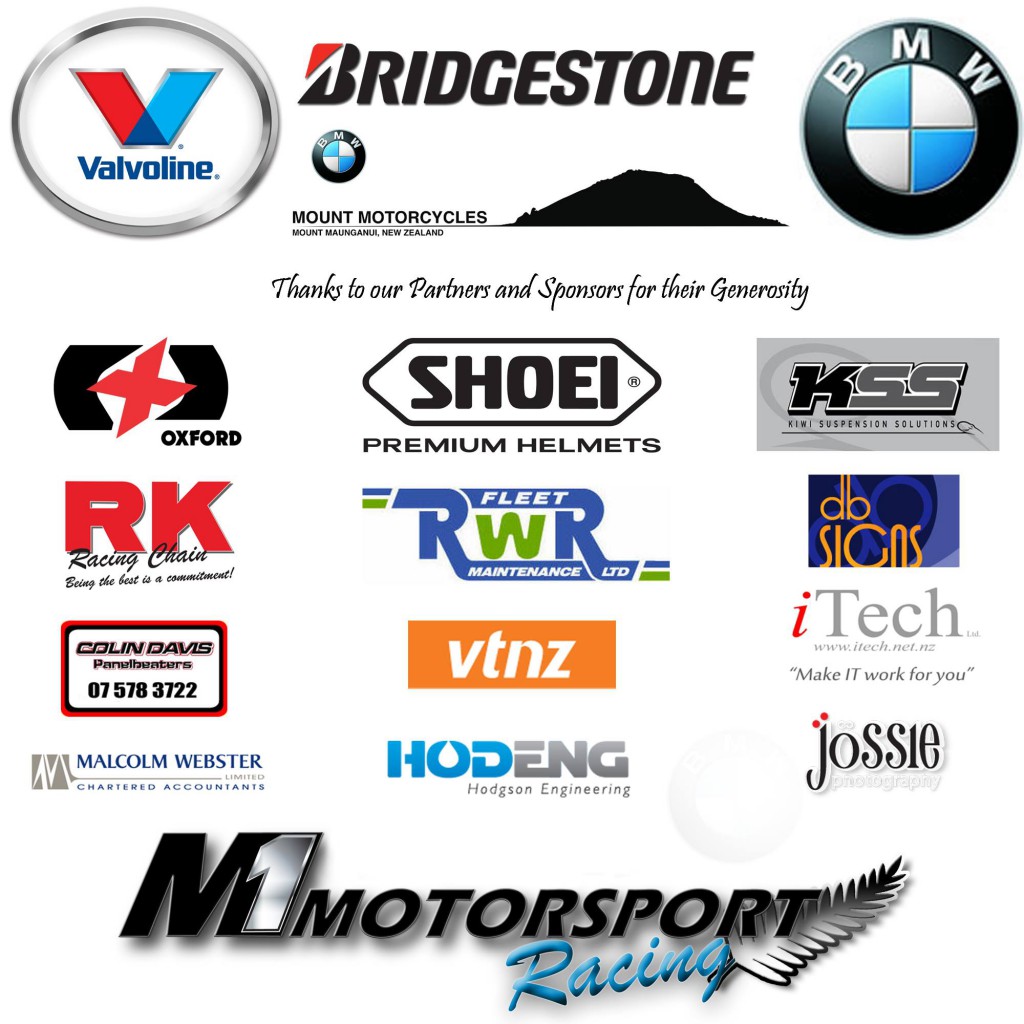 Comments
comments