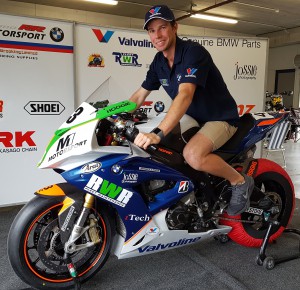 M1 Motorsport was full of excitement for their first outing at Bruce McLaren Motorsports park with
the new 2017 rider/bike combination. The boys managed to stay focused and dialled in a working setup, knowing it was going to be a gruelling weekend. Confidence grew as lap times continued to fall throughout Saturdays practice.
Sunday morning was qualifying and we finally got a glimpse of where we stood compared to the rest of the field. The final tweaks were made mid session, sending Al back out for his last run. Breathing down the necks of the front runners we qualified P5.
"Great to be back on the bike amongst NZ's best and up and coming" commented Al "I felt we had good pace considering not having been to Taupo with the team or bike"
The first race Alastair admits to an average start, forcing the S1000RR back into the middle of the pack. The team however took great confidence watching a whole string of overtakes as Hoogie made up the lost places going under the checkered flag in P5.
Second race Hoogie got a good launch, bunching at turn 1 meant we were squeezed to the inside. Al clipped the white paint losing the front of the BMW and unfortunately taking a few others down with him! The race was red flagged, it was a huge effort from the crew to get the bike back to the start line for the restart. Despite a good launch Al noticed early on the brakes were compromised after the earlier incident. Al managed the brakes the best he could before eventually running the Valvoline BMW down the escape road finally making its way back to the pits to retire.
Al discusses the weekend, "Race 1 I was really happy to not be far off the leaders times, race 2 I sorted my start and found myself right up the front heading into turn 1, I stayed on the inside and as the field tightened I was forced to brake on the white line or make contact with Scotty. I think the shower before the race helped the front tuck on the thick lines of the Taupo track. We've since had a look at our own and others on-board footage and feel it's one of those times where you operate in the moment and when you're all fighting for the same piece of tarmac things like this happen… That's racing they say. I'm now looking forward to Manfield where we hope to further our setup and if the results come it's a bonus"
Right now, we're in one of the busiest periods of the year, especially for the teams involved in the series. It's a big job for the team moving bikes around the country, back to HQ to have them prepped, and then turned around back to Manfeild this weekend, but we wouldn't have it any other way.
– Team M1
Comments
comments