With James "Hoogie" Hoogenboezem, currently leading the 2015 Auckland Motorcycle Championship F1 Superbike class by 41 points a head of Ray Clee with three rounds to go, positive steps and set-up progressions are tracking as expected.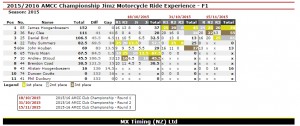 The Tauranga based Valvoline M1Motorsport BMW superbike Team have been bringing themselves up to speed in preparation for the inaugural Suzuki Series, which includes the prestigious Cemetery Circuit boxing day street race, with round one of three firing up this weekend at Hampton Downs.
James has taken to the challenge of the rise from Supersport to Superbike with enthusiasm and has methodically put Bridgestone's through their paces at Hampton downs, in addition to racing club rounds at Ruapuna and Levels circuits and recently as last weekend, two days at the Burt Munro Challenge around James' favourite southern track; Teretonga.
"Over the past few months I have committed to serious preparation with the Team with more riding around Hampton Downs, than any other track in the country."

"This is a track that I admittedly have struggled with over the years, I'm finding the time spent over the last few months up there, hugely beneficial."

"Working with the friendly team at M1 Motorsport that have years of knowledge with the BMW and Ohlins package has helped me find a great base setup for the Bridgestone tyres that we can fine tune, from track to track."

"I have to say, I thoroughly enjoy the BMW's power and the added stability of the Bridgestone's."
James adds "Who doesn't love going fast, with confidence?"
"Even though this seasons Superbike field looks to have a diversity of experience with big numbers on the grid, I'm heading into the Suzuki series with no pressure, other than my personal expectations and I want to apply the event as a stepping stone to learn from the seasoned Superbike riders, before I launch in to the New Zealand Superbike Championship in January."



While James "Can't wait to mix it up with the big guns of the Superbike fields" he adds "I'm excited that other contenders I've previously raced from the 600 Super sport field have also made the step up to Superbikes this season, including my brother Alastair Hoogenboezem, Toby Summers and Jake Lewis who I am looking forward to racing again. "

Team Manager Robert Ramshaw added "I think we'll surprise a few people, I'm quietly confident James will make it within the top ten on the grid."
Special mention and thanks to our Partners and Sponsors for their generosity Check out our Sponsors, who join us again and have been incredible support in assisting the Team in preparation for this season!
More Information
$25 'early-bird' tickets for the Wanganui round are available at www.cemeterycircuit.co.nz and go in the draw after the last race to win a brand new Suzuki UK110 scooter in MotoGP colours – entrants must be present to win.
2015 Suzuki Series schedule
Rnd 1: Hampton Downs, Sunday December 6
Rnd 2: Manfeild, Sunday December 13
Rnd 3: Wanganui Cemetery Circuit, Friday December 26
Watch CTAS live Timing and Streaming Free from the comfort of your lounge.
Comments
comments