James "Hoogie" Hoogeboezem mixed it up with his maiden Suzuki Series Superbike outing this weekend at Hampton Downs.
Qualifying on Sunday morning in 10th position, on the Valvoline sponsored M1Motorsport BMW S 1000RR, James held  6th place at one point, finishing both race 1 and two in 8th position with the points accrued currently holding James in 6th place overall in the series.
"Great weekend but didn't go quite as planned, despite that I'm feeling good about sitting 6th overall, and looking at the names in front of me I'm stoked."
  
"The first few laps in race two on Sunday afternoon was my stand out moment from the weekend, managed a great start and I felt good mixing it up with the big names of the Superbike field."

"The M1Motorsport BMW has a lot more power than anything I've raced in the past. I pushed much harder than I had at previous test days at the AMCC rounds so I found where I'm strong, but also where I need to improve, to stay up with the front pack.
We had to execute a few suspension changes to get the bike working more efficiently, very happy with my corner entry and mid corner speed, but I need to improve my drive out of corners which was where I was losing most of my time."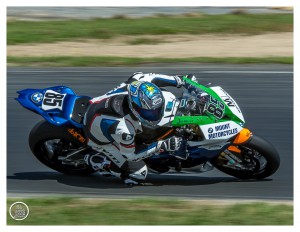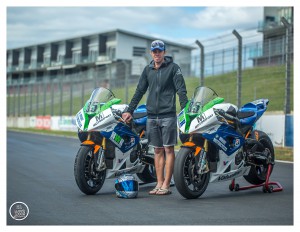 "The Team communication makes it so easy to tweak or make changes and get what I want out of the BMW and the Bridgestone tyres didn't come unstuck all weekend."
"I am excited to be racing again this weekend at Manfeild. The track has been recently re-sealed so I'm not sure what the grip levels will be like, but it will be the same for everyone."
Team Manager Robert Ramshaw is " Very happy with the weekend, James is starting to ask a lot more from the BMW and is gaining confidence that it will do what he tells it to, there's still more time to gain, we still have a bit of leeway in certain areas. "
"Every session James went out, there were small gains made, particularly in the final race, watching James climb off the bike grinning, I knew he'd had a light-bulb moment."
Suzuki Series Round Two – Manfeild Sunday, 13th December.
Series Points
| | | | |
| --- | --- | --- | --- |
| 1 |  H          Horst Saiger | 51 | Kawasaki |
| 2 | #3         Sloan Frost | 43 | Suzuki |
| 3 | #10      Andrew Stroud | 40 | Suzuki |
| 4 | #11      Tony Rees | 34.5 | Honda |
| 5 | #07      Scott Moir | 32 | Suzuki |
| 6 | #85      James Hoogenboezem | 26 | BMW |
Comments
comments